10 / Aug / 2022
How to Clean your Moroccan rug? 9 Tips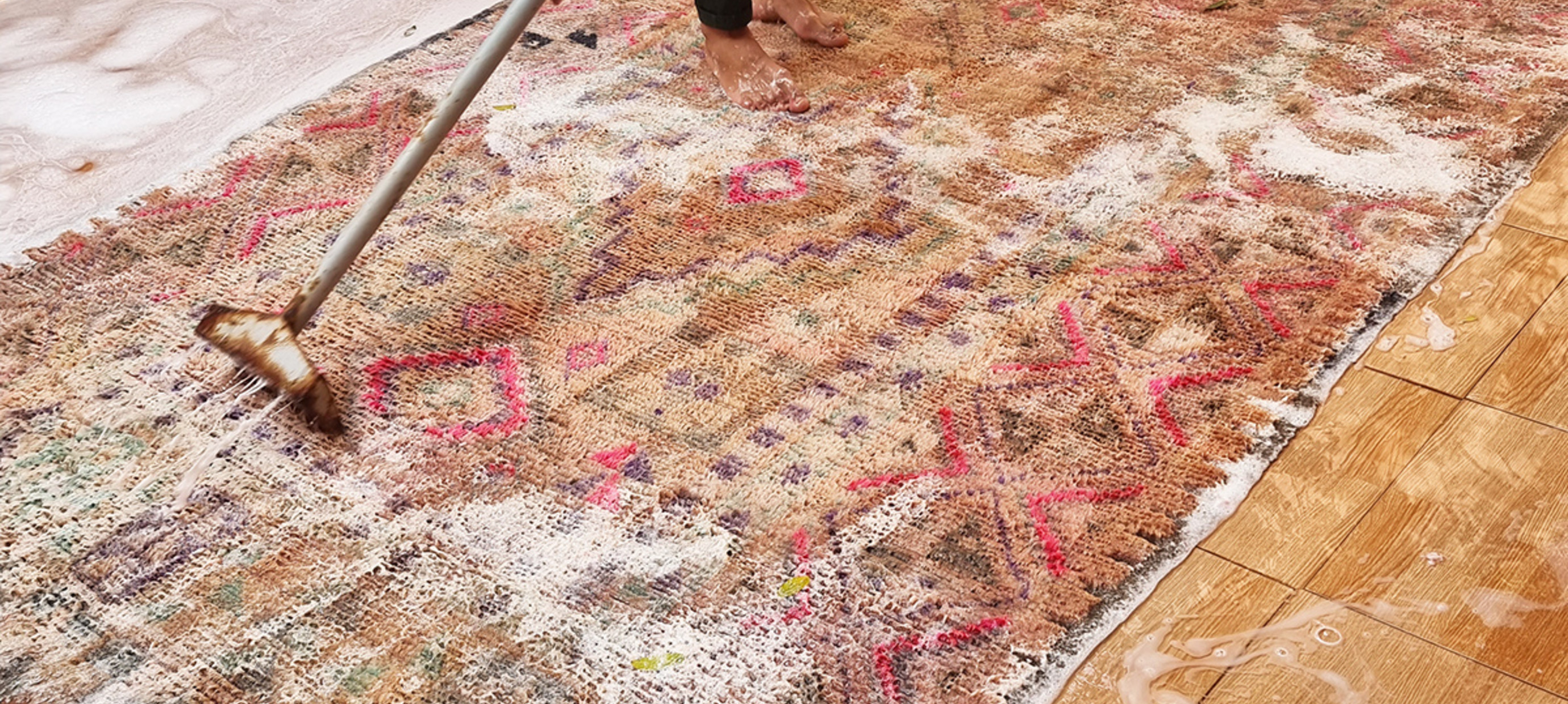 Cleaning a Moroccan Berber rug
In Morocco we have all our rugs cleaned before they come to the Netherlands. This is done entirely by hand with water and a broom. This is quite an intensive job. In the video you can see how one of our carpets is cleaned in Morocco.
Have your rugs been cleaned?
One of the most frequently asked questions in our store is: ''Have your rugs been cleaned?'' Yes!
We ensure that a rug in Morocco is cleaned very well. We do not sell a rug with a vintage smell that can no longer be removed. Of course the rug is made of wool and is vintage so you almost always have some smell, but this should be minimal.
How do you clean your Moroccan Berber rug? 9 Tips you can follow!
Most Berber rugs are made of wool. Wool has a self-cleaning property.
Tip 1 Dabbing
If there is spillage, immediately blot as much of the spill as possible with a damp cloth. Dabbing is important and therefore do not rub because then the wool can felt.
Tip 2 Clean your carpet with water and a broom
If you want to freshen up your rug once in a while, you can do it the old-fashioned way. It is important that you know that sunny days are coming.
For example, clean your rug once a year in the summer. Make sure you place the rug on clean tiles or, for example, on a very large tarp. Moisten the rug with a garden hose, bucket or watering can. Use a washing powder or mild soap as shown in the video. Clean the carpet with a broom. This is quite a job. The rug becomes very heavy because of the water and it is therefore important that it can dry well.
Tip 3 remove cleaning product very well.
Use the garden hose to clean and rinse your rug several times to remove all the cleaning product. If you don't remove this properly, the rug will get dirty faster because sticky residue remains behind.
Tip 4 How to deal with an accident
If your pet or toddler has an accident, it is important to act as quickly as possible. First, dab it with a cloth or kitchen paper to absorb as much of the moisture as possible. Then wash with warm water and vinegar and or a mild soap or soft detergent, do not rub but dab. Repeat this and then just let it dry (so no more dabbing) Then sprinkle a lot of baking soda over it and let it sit overnight. The next day you suck it up.
Tip 5 You can vacuum your carpet.
Loss of wool can often occur with wool carpets, especially when they are new. With a good quality rug, this decreases after a while, but it can take a few months. With the older vintage carpets this is usually much less. If a rug sheds, you can gently brush it with a dog brush or a clean barbecue brush to remove excess fibers.
Tip 6 Hanging the rug outside
Every now and then you can shake out your rug and hang it outside.
Tip 7 Backside Berber rug
The Moroccan good quality rugs are meant to last for decades. Try to prevent dust from getting caught between the fibers so that the fibers do not weaken. It is therefore important to vacuum the back of the rug from time to time.
Tip 8 Do the colors run?
Most original vintage Moroccan rugs are organically dyed and won't fade, but you never know for sure. In principle you can assume that it will go well. Test on a small piece if in doubt.
Tip 9 Professional carpet cleaner
You can take most rugs to a professional carpet cleaner, for example once a year or every two years, depending on whether the rug is used intensively or not. Make sure the carpet cleaner has experience with Moroccan Berber rugs.
Moroccan rugs, the more often you wash it, the softer it becomes. Sun and cleaning give the Moroccan rugs made of natural wool that extra beauty. Sometimes you just don't have the space to clean your rug outside and let it dry in the sun. Then the alternative is the professional carpet cleaner.